Now Turmeric & Bromelain Review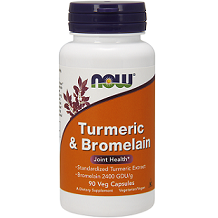 The following is our review of Now Turmeric & Bromelain. It is a dietary supplement created to support healthy joint tissue. There have been scientific studies that have shows that curcuminoids from turmeric can help support the correct activity of crucial enzymes that are naturally present during normal biological stress. Bromelain is derived from pineapple and studies have shows that it may be able to reinforce normal immune system response. Continue reading for our full review.
Ingredients
Turmeric Root Extract – 600 mg
Bromelain – 300 mg
Other ingredients include cellulose, stearic acid, magnesium stearate, and silica. This product does not contain any wheat, gluten, soy, milk, egg, fish, shellfish, or tree nut ingredients. It was produced in a GMP facility that processes other ingredients containing these allergens.
Curcumin is the main active ingredient found in turmeric. It has anti-inflammatory effects and is a very strong antioxidant. Since arthritis usually involves inflammation in the joints and turmeric has anti-inflammatory properties, it has been shown to be effective in treating arthritis and joint pain.
Dosage
It is recommended to take 1-2 capsules 2 times a day, preferably with food.
Possible Side Effects
There were so side effects listed on the manufacturer's website. This product is meant for adults only and should be kept out of the reach of children. You should speak with a healthcare professional before using this product if you are pregnant, nursing, have a medical condition, taking any medications, or plan to have surgery.
Price
Now Turmeric & Bromelain is sold directly from the manufacturer for $27.99 for a bottle of 90 capsules. This is a very affordable supplement since you only need to take 1-2 capsule a day, which means this product will last you 1.5 – 3 months.
Guarantee
The manufacturer gives their customers 60 days to return the product if they are not satisfied with it but only if it was directly purchased from them. A 15% restocking fee may be applied to some orders. Returns made after 120 days will not be accepted. The product should be new and unopened. If the bottle is empty or less than half full, you will not be credited unless there were reasonable circumstances. This guarantee is kind of all over the place. They first say you need to return the product withing 60 days to get a full refund and then say no returns will be accepted beyond 120 days. They also say only some orders will be charged a 15% restocking fee and then mention that an empty or mostly used bottle may be able to be returned under "reasonable circumstances", which is extremely vague.
Conclusion of Our Now Turmeric & Bromelain Review
There are a couple of positive things about Now Turmeric & Bromelain. It is extremely affordable. It seems to have a pretty fair return policy as well, allowing you to try the product a little and then return it, but then on the other hand the return policy really doesn't guarantee the customer anything. It doesn't mention their confidence in their product's effectiveness. It also creates a lot of grey area regarding what qualifies for a full refund, which will allow them to give you any reason why your return won't be accepted. This product is also processed in a facility that also processes many allergens which isn't safe for most people. We feel you can find a safer and more effective product elsewhere.
Top investigative research brought to you by the experts at Customer Review.