Oregon's Wild Harvest Turmeric Review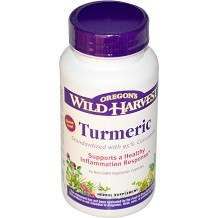 Turmeric is a highly diverse plant used in many ancient medicinal practices. As it has been used for more than 2000 years in medicine and as a food product, it is no wonder why this basic plant is highly regarded in alternative medicine. Turmeric has been used to treat ailments such as; inflammation, gastrointestinal problems, stomach ulcers, cholesterol and in some cases it has been used to treat Alzheimer's. With such diverse range of applications and its popularity on the rise as alternative medicine gains awareness, a wide variety of turmeric supplements are now on the market. So how does a consumer decide on which supplement to pick? The ingredients and concentrations are a good place to start. A few ingredients to look for are products containing curcumin, curcuminiods and turmeric resins. It is also highly desirable to choose organic products, which will contain less chemicals and pesticides.
One product that consumers may consider as a Turmeric supplement is Oregon's Wild Harvest Turmeric. This product has proven highly effective, with a superior blend or organic ingredients free of chemicals and other contaminants. The manufacturer also states that the product is vegetarian safe, as they use state of the art equipment and processes in the production of the product. The health benefits claimed by the manufacturers are liver health, prevention of inflammation and better cardiovascular health.
Ingredients
Turmeric Extracts
Organic Turmeric Rhizome
Black Pepper Extracts
Vegetarian Capsule
Dosage
The manufacturers recommend a daily intake of three capsules, which should be taken with meals. Generally the recommended daily intake of Turmeric supplements is 1000mg/day. It is recommended that consumers discuss appropriate dosage with a medical practitioner.
Price
The price of Oregon's Wild Harvest Turmeric is $29.95 for one bottle containing 60 capsules. Other supplements offer a lower price point for similar products such as; Swanson Vitamins ($22.49) or Turmerol ($28.14 for 120 capsules). Price point is not an attraction to Oregon's Wild Harvest Turmeric.
Guarantee
There is no product satisfaction guarantee offered by the manufacturers of Oregon's Wild Harvest Turmeric and purchasing this product is at the consumers risk. Therefore no monies spent on this product will be refunded if consumers are unsatisfied. It is recommended that consumers research products to ensure they are satisfied with purchases.
Conclusion of Oregon's Wild Harvest Turmeric Review
Despite the manufacturers promise of better health Oregon's Wild Harvest Turmeric is likely not the best Turmeric supplement available to consumers. The high price point and the lack of a product satisfaction guarantee, leave much to be desired for consumers.
Top investigative research brought to you by the experts at Customer Review.