Isha Ruchi Turmeric Powder Review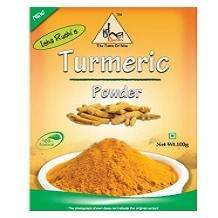 Over recent decades, natural medicine and alternative methods to conventional medicine have been increasing in popularity around the world. Although the pharmaceutical industry promises a quick fix to many health problems, individuals are realising that a natural healthy alternative may actually be more beneficial in the long term. People are seeing that a healthy lifestyle with natural supplements is a better solution than pumping pharmaceuticals into their bodies. Therefore, natural products and supplements have become a staple for most individuals that seek a healthy natural lifestyle and among these products is the humble Turmeric plant.
Turmeric has many health benefits, including the abundance of cucumin, which offers a variety of healing and preventative health solutions. Curcumin acts as a powerful antioxidant, an anti-inflammatory and promotes better cardiovascular health. Some natural health care professionals also recommended the use of Turmeric in the treatment of cancer and Alzheimer disease.
A turmeric product on the market that may be useful in treating the aforementioned ailments and diseases is Isha Ruchi Turmeric Powder. The powder is claimed to promote cleansing in the body in eliminating toxins that can be harmful to health.
Ingredients
No other information is provided by the manufacturer in regards to the ingredients that are used in Isha Ruchi Turmeric Powder. Some consumers may seek out products that contain other ingredients that stimulate absorption.
Dosage
The manufacturer recommends that one teaspoon of the Isha Ruchi Turmeric Powder be mixed with water, formed into a small moulded ball and consumed. It is suggested that consumers consider using the product with Isha Ruchi Neem Powder for maximum benefits.
Price
The manufacturer states that one package of Isha Ruchi Turmeric Powder is $4.99. Each package of the powder contains approximately 16 servings, therefore each package is likely to last about two weeks.
Guarantee
There is a return period for this product of up to 30 days from the date of purchase and refunds are processed in 7 – 10 business days. The manufacturer states that the product must be returned in the original packaging with proof of purchase included. The consumer will still pay for postage and handling.
Conclusion of Isha Ruchi Turmeric Powder Review
Overall the Isha Ruchi Turmeric Powder is a good choice for consumers looking for a product that does not contain extra ingredients or absorption aids. It is simply turmeric powder, which is stated to contain only the powder of whole turmeric. The low price point and the decent product satisfaction gaurantee make this product attractive as a basic, cheap, no frills turmeric supplement. The powder would be good for people seeking no extras, additives or as an introductory Turmeric product.
Top investigative research brought to you by the experts at Customer Review.