Kyolic Aged Garlic Extract Curcumin Review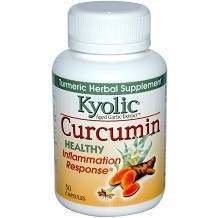 Curcumin the active compound Kyolic Curcumin is a combination of two products, Meriva Turmeric Complex and Aged Garlic Extract. They claim that the combination of these two products supports a nutritional and healthy response to inflammation. in turmeric has been used for centuries in traditional Asian medicines. The compound is well recognized for its strong antioxidant properties. By combining Meriva Turmeric Complex and Aged Garlic Extract, Kyolic aims to provide your body with the ability to absorb the curcumin more effectively.
When used as a medicine or supplement, the curcuminoids in turmeric are said to help reduce inflammation, increase joint function, benefit digestive functions, promote healthy liver functions, support the cardiovascular system and reduce the effects of aging.
Aside from medicinal use, turmeric is also used as a spice in many food dishes. People of the Indian and Japanese culture understand the health benefits of curcumin and tend to eat a healthy balanced diet high in turmeric. Turmeric is often brewed as a tea or served in warm milk.
Kyolic does state that their Aged Garlic Extract is supported by over 650 scientific papers, but lists no source for this information. Because of the rapid increase of herbal companies manufacturing and selling a variety of Turmeric supplements, we have decided to look a little further into Kyloic's Curcumin product to see what it contained, how it was made, and if it was good value for the money.
Ingredients
Kyolic Curcumin contains the following ingredients:
Meriva Turmeric Complex (1000 mg) – a blend of curcumin and phosphatilidycholine.
Aged Garlic Extract Powder (300 mg) – from the bulb of the garlic plant.
Other inactive ingredients are present in this product, gelatin, cellulose, silica and magnesium stearate.  This product is free from sodium, yeast, dairy, sugar, gluten, preservatives, artificial colors and flavors.
People with an allergy to soy should avoid this product. It is vegetarian friendly.
Dosage
Kyolic recommends that two capsules of their Curcumin supplement be taken with a meal, daily.
Price
You are unable to buy Curcumin through the Kyolic website. They state that their product comes in bottles of 50 capsules or 100 capsules. However, you are able to buy this product via third party retailers such as iHerb and Amazon. Amazon has a listed price of $18.35.
Guarantee
As the Kyolic website does not sell this product directly, they do not have a guarantee or product return policy. Guarantees and product returns will be left up to the individual retail sites that Kyolic Curcumin are sold on.
Conclusion of Kyolic Aged Garlic Extract Curcumin Review
Kyolic Curcumin is a little pricey compared to other brands available on the market. A small 50 capsule bottle will only last a customer 25 days if taken as recommended. Furthermore, they also don't offer a guarantee. That quite a worrisome factor for a product not to have.
Top investigative research brought to you by the experts at Customer Review.