Herbs of Gold Biocurcumin 4800 Review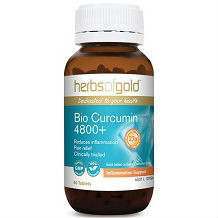 Sufferers of osteoarthritis and of various joint problems are well aware of the enabling effects that pain and inflammation can cause. Mobility issues and lack of productivity can hinder a persons ability to do things for themselves and even render them dependant on others. Some sufferers will seek out a quick fix option, such as pharmaceuticals or even surgery to "heal" themselves, whilst others prefer a more natural treatment approach. Using pharmaceuticals on a regular basis can cause significant liver damage and increase toxicity of the body. Alternatively natural products are a much safer and healthier option for long-term solutions.
One plant based solution is using Turmeric supplements to heal and/or prevent inflammation. Along with its other benefits such as; lowering cholesterol, treating skin conditions, healing stomach ulcers, eliminating toxins in blood, treating colitis and even treating diseases like cancer and Alzheimer's. So with all of these benefits, which products are the best?
One product available on the market that seems promising is Herbs of Gold Biocurcumin 4800. The manufacturers boast a proprietary blend that makes their product one of the fastest absorbing available and therefore, showing the quickest effects. With multiple clinical trails undertaken on this product, it is a safe and reliable supplement for its customers.
Ingredients
90 milligrams of curcumin
Dosage
The manufacturers recommend that 1 tablet be taken two times daily with food and water for maximum benefits. It is recommended that customers consult with their doctor prior to using any supplements or medication.
Side Effects
There are no significant side effects mentioned for this product. It is gluten, dairy, egg and peanut free, however it does not say that it is 100% vegetarian.
Price
The manufacturers website states that one bottle of Herbs of Gold Biocurcumin 4800 is priced at $ 68.95. There are 60 capsules in a bottle, which is approximately a one month supply of the product.
Guarantee
There is no product satisfaction guarantee offered by the manufacturers of this product. However, they do state that the product is produced within the safety regulations of the US government.
Conclusion of Herbs of Gold Biocurcumin 4800 Review
For consumers looking to try a turmeric supplement, Herbs of Gold Biocurcumin 4800 is not the best or cheapest option available on the market. There is no product guarantee offered and the price point is on the very high end of most turmeric supplements.
Top investigative research brought to you by the experts at Customer Review.