Christian Wilde's Enhanced Turmeric+ Formula Review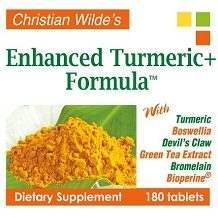 This is a review of Christian Wilde's Enhanced Turmeric+ Formula supplement. Turmeric is a proven anti-inflammatory agent. Curcumin, the main compound found in turmeric, is also a powerful antioxidant and boosts many different systems in the body to increase overall health and wellness.
Ingredients
Turmeric root powder – A proven antioxidant and anti-inflammatory agent, turmeric has been used as a flavoring agent and as a natural medicine in India for thousands of years. Recently, it has been shown to boost brain development and functioning, contribute to a lowered risk of heart disease, deter some types of cancer, and may even help to prevent Alzheimer's disease.
Turmeric extract – Containing 95% curcuminoids, this is the compound that makes turmeric so potent. It adds to the already potent antioxidant and anti-inflammatory properties already in the turmeric root powder, making this supplement even more powerful.
Green tea leaf extract – Another powerful antioxidant, it helps to reduce cell damage and aging caused by free-radicals, discouraging inflammation and cancers. L-theanine, found in green tea leaf, promotes a sense of calm and mental well-being, reducing anxiety naturally.
Boswellia serrata gum extract – Also known as Indian Frankincense, this herb has been used for centuries for its natural anti-inflammatory properties. Studies have also shown that it is beneficial for those suffering from asthma, rheumatoid arthritis, IBS, and arthritis.
Devil's claw root powder – The root of a flowering plant, it is used as a natural remedy for arthritis pain, as it reduces inflammation while acting as an analgesic. It is also proven to be beneficial for digestive disorders.
Ginger root powder – A well-known natural remedy for digestive troubles, ginger also encourages healthy circulation. It is also a natural anti-coagulant that can increase cardiac health and circulation.
Black pepper extract – Has proven benefits for digestive health, especially the stomach. It has carminative properties, which reduces gas and bloating after meals. Most importantly, it helps to make other nutrients and compounds more bioavailable, enhancing their effectiveness.
As you can see, many of the above ingredients share overlapping benefits. This makes for an especially potent and effective product that has strong anti-inflammatory and antioxidant benefits, while also contributing to overall health.
Dosage
For best results, take two capsules a day. These should be taken at the same time.
Possible Side Effects
There are no negative side effects associated with this product. Although if you are suffering from a chronic health condition, or are pregnant or nursing you should always speak with your doctor or another healthcare provider before incorporating a new supplement. You should avoid this product if you have bladder or gallbladder disease, or if you are taking blood thinners or are allergic to pineapple.
Price
You can purchase this supplement on Amazon for $35.95. This provides a bottle of capsules for 90 days, which is a good value for this high-quality supplement.
Guarantee
If you are unsatisfied with this product you can return the unused portion for a refund. However, there are no further details about this guarantee.
Conclusion of Our Christian Wilde's Enhanced Turmeric+ Formula Review
This Enhanced Turmeric+ Formula contains several powerful ingredients proven to be effective in a number of health areas based on scientific research. It's especially potent, and uses powder, rather than extracts only, for enhanced quality and results. Another big plus is the many positive reviews for this supplement. However, there is not much information about the actual manufacturing process of this product or any clear details about the money-back guarantee.
Top investigative research brought to you by the experts at Customer Review.