Thorne Research Meriva-SF Review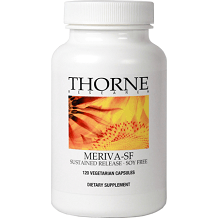 This review is for Thorne Research's Meriva-SF sustained release tablets containing curcumin and sunflower phospholipids, which are designed to fight inflammation, and increase levels of antioxidants and general health in users. This patented formula is designed for those with sensitive stomachs and for easy, more efficient absorption.
Ingredients
The primary ingredient in these tablets is curcumin phytosome. It is complexed with Time-Sorb, a trademarked compound that allows for a slow-release of the curcumin compound to provide sustained anti-inflammatory relief and increased energy levels. Curcumin's other benefits include gastrointestinal support and cardiac function through the increase of cytokine production in the body which helps to regulate cellular health and functioning.
This particular type of curcumin, curcumin phytosome, is more easily absorbed by the body compared to other supplements and even more than curcumin found in foods because they are bound to phospholipids, which allow the curcumin to more easily pass through cell walls and allow the user to gain the maximum benefit of absorption.
This supplement is also certified non-GMO, organic, and registered with NSF.
Dosage
For best results, it is recommended to take one to two 500mg capsules two times daily. There are approximately 60 doses per bottle. There are no recommendations for whether this dose should be taken in the morning or evening, and when you should take one capsule at a time and when you should take two.
Possible Side Effects
If you are pregnant or breastfeeding you should not take this supplement without first consulting a doctor or other healthcare provider. It may interfere with the absorption of some chemotherapy drugs, so those who are being treated should not take this product. If you are suffering from any chronic health issues you should also consult your doctor before use.
Price
This supplement can be purchased from the company's website for $41.60 for a one-time purchase. You can purchase this on a subscription basis, although there is no discount offered. There may be occasional coupons that can be redeemed for savings.
Guarantee
There is no explicit product guarantee, which creates some concerns over the efficacy of this supplement. There are no available customer reviews, which adds to this concern. Because neither of these are available there are serious concerns about the efficacy of the product, as there is no recourse if you are unhappy with results.
Conclusion of Our Thorne Research Meriva-SF Review
The primary ingredient in this supplement is high quality, organic, non-GMO, and certified with a number of agencies. This high-quality ingredient, combined with its patented slow-release formula creates an effective, easily absorbed product that is well-suited for those with sensitive digestive systems, who would like the benefits of curcumin's anti-inflammatory and other benefits. However, this product is more on the expensive side and there don't seem to be any options to save money. There is also no guarantee that comes with this product, which put you at financial risk if the product does nto work for you. There are many excellent turmeric products on the market that do come backed with money-back guarantees.
Top investigative research brought to you by the experts at Customer Review.