Natural Wellbeing Candida Rescue Review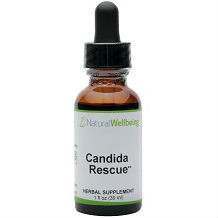 When yeast occurs in the body, it is referred to as Candida albicans. It is naturally occurring in the body, generally found in the digestive tract and reproductive system. When yeast becomes unbalanced in the body or is out of control, it leads to an infection. Most often this occurs in the vagina or groin area, but can show up in other parts of the body.
The use of some drugs, or simply a poor diet can cause an imbalance between yeast and good bacteria in the intestinal tract, which can in turn bring about some of these issues. Good yeast treatments are developed to balance the pH levels and alkaline lines in the body. This produces an acidic environment in the body that makes it impossible for the candida yeast to thrive or even survive. The good news is that yeast infections can usually be reversed with a change in diet and good supplemental treatment.
There are many yeast treatments on the market today and it's important to select one that is attacking what is issue in the body and not just treating the symptoms of the yeast infection.
Ingredients
Yeast treatments range in ingredients from all natural and herbal treatments to homeopathic treatments to synthetic treatments. There are many available choices on the market. The ingredients in Natural Wellbeing Candida Rescue include:
• Usnea Lichen
• Pau d'Arco Bark
• Fresh Black Walnut Hulls
• Fresh Spilanthes Flower
• Oregon Grape Root
• Gentian Root
• Fennel Seed
• Tea Tree Essential Oil
• Oregano Essential Oil
• Grain Alcohol
• Deionized Water
Dosage
The manufacturer recommends taking 60-90 drops, 3-4 times per day in water or juice.
Side Effects
No side effects could be identified for this product. As always, with any yeast treatment, contact your doctor before use.
The manufacturer does caution that if you are pregnant or nursing not to use this product. If you are taking medications or have any health condition, consult your doctor before using.
Price
Internet pricing may vary from website to website. At the time of writing this review this product was found at a price of $14.95 for a 30 mL bottle. At the suggest use, this should last you about one month.
Guarantee
Many people want a guarantee as an assurance that if they don't get the results that they are looking for, they will not be punished. Depending on where you buy this product, individual websites may off their own money-back guarantees.
The manufacturer does provide a 90-day guarantee, but when searching their website little information could be found concerning the stipulations of this guarantee.
Conclusion for Natural Wellbeing Candida Rescue Review
This product comes with a vague guarantee and it is not FDA approved.
Top investigative research brought to you by the experts at Customer Review.