Nature's Plus Advanced Therapeutics Triple Strength Ultra Rx-Joint Review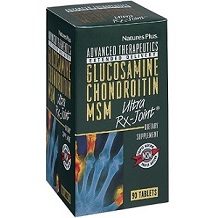 The following is our review of Nature's Plus Advanced Therapeutics Triple Strength Ultra Rx-Joint. The maker's of this product claim that this formulation provides unparalleled nutritional support for peak joint lubrication and mobility. Nature's Plus Advanced Therapeutics Triple Strength Ultra Rx-Joint is designed to eliminate the symptoms of stiff, sore joints, arthritis, and joint inflammation.
Ingredients
• Vitamin C – 50 mg
• Manganese – 5 mg
• Glucosamine Sulfate – 250 mg
• Methylsulfonylmethane – 250 mg
• Chondroitin Sulfate – 200 mg
• Celadrin – 188 mg
• Black Cherry Extract – 25 mg
• Hydroxypropyl Methylcellulose
• Dicalcium Phosphate
• Stearic Acid
• Magnesium Stearate
• Silica
• Pharmaceutical Glaze
Glucosamine and chondroitin sulfate are thought to help slow or prevent the degeneration of joint cartilage, the underlying cause of osteoarthritis pain.  Manganese aids in the formation of connective tissue, bones, blood-clotting factors. Methylsulfonylmethane is used to treat arthritis or osteoarthritis/degenerative joint disease since it helps form connective tissue and repair joints, tendons and ligaments.
Dosage
Take two capsules, twice daily as a dietary supplement. For extra strength results, take four capsules, twice daily. There was no explanation as to which people should take a double dose of eight pills per day and which people should only take four pills per day.
Possible Side Effects
There were no side effects or warnings listed on the product label or manufacturer website. It is advisable to contact your doctor before use. There was no explanation of precautions or which people should avoid this product for example, pregnant, nursing, under age 18, with medical conditions etc.
Price
The product was unavailable for purchase on the manufacturer's website but we found a one month's bottle supply of 120 pills on Amazon for $35.93 with free shipping. There were no new customer nor bulk buying discounts on the manufacturer's website.
Guarantee
There was no product guarantee, nor return policy available on the manufacturer's website.
Conclusion of Our Nature's Plus Advanced Therapeutics Triple Strength Ultra Rx-Joint Review
Among the pluses that we have about this product are the fact that it is free from artificial colors and preservatives, allergens, yeast, wheat, soy and milk. It contains some powerful natural ingredients that may have some significant benefits for people suffering from joint pain and inflammation. We also have a number of not so positive comments about this product. The cost of this product is high at $35.93 for a one month supply. But if taking a higher dosage of eight pills per day, this 120 bottle will only last 15 days! The product seemed that much more expensive because the manufacturer does not offer any new customer incentives nor any bulk buying discounts. We were disappointed to see that there is also no offer of a guarantee or return policy on the manufacturer's website. We felt that the dosage instructions were not detailed enough and lacked an explanation as to which people would need to double the dosage from four to eight pills per day. The label also lacked an explanation of possible side effects or warning information. For example is it ok for pregnant or nursing women, people under age 18, or people with an existing medical condition to take this supplement? For such a costly product, consumers need the protection of a return policy before risking their money on a product that may or may not be effective in curing joint pain. This product is not FDA registered, nor made in a GMP certified laboratory. We suggest that when looking for a joint pain supplement you seek out one with a reliable return policy that the manufacturer stands behind, and one that is good value for value, that also offers bulk buying incentives and discounts.
Top investigative research brought to you by the experts at Customer Review.