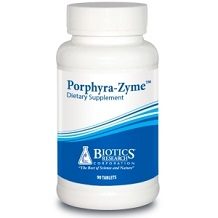 The following is a review for a product called Porphyra-Zyme. It claims to help the body if it has become overloaded with toxic heavy metals. If the body has a toxic overload bloating, poor memory, trouble concentrating, fatigue and constipation may occur. This product claims to be a natural formulation that may help your body get rid of toxic metals. Having toxic metals in the body can lead to bad body odors.
Ingredients
Vitamin C (as ascorbic acid) 120 mg / 200%

Proprietary Blend 210mg

Spinach (Spinacia oleracea) (stem & leaf) 

Mulberry (Morus alba) (extract) (leaf) 

Organic Beet Concentrate (Beta vulgaris) (leaf) 

Vegetable Culture Concentrate (from non-soy legumes) 
Vitamin C (as ascorbic acid) is a strong antioxidant that may bring down the amount of  the toxicity of metals within your body. The special blend of spinach powder' beet leaf powder' mulberry extract as well as vegetable culture concentrate may bind to toxic metals and work to help expel them from your body. Other Ingredients include stearic acid (vegetable source)' magnesium stearate (vegetable source)' modified cellulose gum' and food glaze.It is dairy and gluten free.
Dosage
The recommended dosage for this product is to take one tablet 1-3 times daily as a dietary supplement or as otherwise directed by a physician.
Possible Side Effects
It is recommended not to exceed 3 tablets a day as this product contains Vitamin C. If your body is overloaded with Vitamin C it may lead to digestive symptoms such as diarrhea and nausea.
Price
The price for one bottle of 90 tablets is $17.43. For a bottle of 270 tablets you will pay $46.29. You can purchase this particular product online. We feel that the price is reasonable but there are no special discounts given for multiple purchases – a choice which is available through other brands.
Guarantee
There is a 30 day 100 % money back guarantee. Money will only be refunded if the product is unopened and in the same condition that it was received. Also free returns only apply to items shipped within the U.S.A. Most returns are fully refunded within 3-5 working business days.
Conclusion Of Our Porphyra-Zyme Review
We found this product to be well priced and contain a good number of natural ingredients. Our big concern with this product was the fact that the guarantee is only 30 days and only holds secure if the product is returned unopened. The fact that the guarantee is only for 30 days does not allow one to try out the product and even if one does there is no refund for open products. This makes one question in the efficacy of this product and the brand's belief in their product.  
Top investigative research brought to you by the experts at Customer Review.