Solgar No. 7 Joint Support & Comfort Review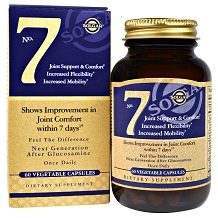 For those suffering from joint pain, finding a good, natural remedy can be extremely important. They want a supplement that will maintain joint health, as well as remedy any pain. That is the point of our review of Solgar No. 7 Joint Support & Comfort, to help you determine if this product can help you.
Ingredients
5-LOXIN Advanced Boswellia
Turmeric Root
UC-II Standardized Cartilage
White Willow Bark
Ginger Root
Pepper Spice Complex (Bioperine)
Vitamin C is used here because it has been shown to help maintain cartilage, keeping your joints in better condition. 5-LOXIN Advanced Boswellia, also known as Indian Frankincense, is used because of its anti-inflammatory properties, helping to relieve arthritis and joint pain. Turmeric root is used for the same reason; because of its high amount of antioxidants, it also acts as a powerful anti-inflammatory agent. However, this Turmeric would be all but useless without the ingredient Bioperine, shown here as Pepper Spice Complex. A derivative of Black Pepper, this increases the Turmeric's bioavailability in your body. UC-II Standardized Cartilage is an ingredient that boosts the health, as well as the production, of cartilage in the joints. The last two ingredients, Ginger Root and White Willow Bark, are both very similar in that they act against inflammation and help to cut joint pain.
Dosage
The dosage of Solgar No. 7 Joint Support & Comfort is fairly simple, and is easy to follow through with. Adults should take one capsule per day. If you are given alternative instructions from your medical physician, always follow that advice.
Possible Side Effects
This product may not be intended to be used by women who are either pregnant or breast-feeding; it is suggested that they seek medical advice before use. The same can be said for those who are currently taken medications or who have a medical condition. There is mention of keeping an eye out for "adverse reactions", but none are explicitly stated. If you are allergic to aspirin, you should not take this supplement.
Price
The normal price for Solgar No. 7 Joint Support & Comfort is $25.70. However, at the moment, they are offering a sale, where you can purchase that same bottle for $20.56. This means that you will save $5.14, or roughly twenty percent of the original cost.
Guarantee
While writing this review, we searched not only the website that Solgar No. 7 Joint Support & Comfort is found on, we also searched other pages on the internet. Even with these measures, we were unable to locate any sort of guarantee, either that it will work as advertised or that you'll receive a refund if it doesn't.
Conclusion of Our Solgar No. 7 Joint Support & Comfort Review
There are certainly good things about this product. The ingredients are top notch, the dosage is manageable, and they are upfront about their warnings and limitations. However, those limitations seem to affect a large amount of the intended consumers:  If you take medications or have a medical condition, you can't take this. You also have no guarantee whatsoever that you will receive a product that works, nor that you will get a refund if it doesn't.
Top investigative research brought to you by the experts at Customer Review.