Promedev Relief Factor Review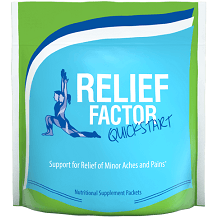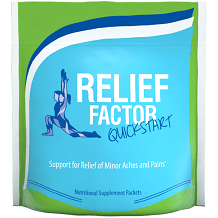 Said to be the result of a research by medical doctors, Relief Factor is a natural supplement made for fighting inflammation. It thus helps to deal with the joint and muscle pain that inflammation can cause. The company which makes the product says it was made with the help of prominent chiropractors. It is inspired by doctors' experiences during years of clinical practice. The goal of the supplement was to provide a safer alternative to dangerous over-the-counter, anti-inflammatory drugs. Read our Relief Factor review further to better assess these claims.
Ingredients
Relief Factor is made of:
• Icariin
• Resveratrol
• Curcumin
• Omega-3
Icariin is believed to promote normal, genetic-level production of inflammatory factors. It also regulates nitric oxide levels to promote circulation and healing. Boasting powerful antioxidant properties, resveratrol supports healthy inflammatory response and blood vessel health. Curcumin provides impressive support for normal inflammatory balance and pain response via multiple pathways. Relief Factor is said to use a type of curcumin whose absorption rate is three times faster. In addition to contributing to healthy inflammatory response, omega-3 also supports healthy pain response and boosts healing.
These ingredients are actually blended with several others, including cellulose, silica, stearic acid and Vitamin E from soy. It also contains fish from sardines, anchovies and mackerel.
Dosage
A packet of Relief Factor contains two capsules and two soft gels. The perfect dose will depend on an individual's condition. Promedev recommends taking three packets at the initial stage – up to four packets for severe pain. You can reduce your dose to 2-3 packets a day when pain reduces, or use as directed by a doctor. Higher doses may be necessary for those with long-term chronic injuries or conditions. When you are taking three packets in a day, take one each in the morning, afternoon and night. You can take two packets during the day when using up to four daily. It is a good idea to use with food to avoid stomach issues.
Possible Side Effects
Promedev notes that users may experience one or more of the following side effects:
• Upset stomach
• Loose stool
• Dry mouth
• Dizziness
• Nosebleeds
Most of these side effects are said to be rare and should vanish after the body adjusts to Relief Factor. Probiotics can be used to deal with upset stomach. It is beneficial to speak to a doctor before using any supplement.
Price
A month's supply of Relief Factor includes 60 packets and goes for $49.95 on the manufacturer's website. They also offer an introductory offer for first-time purchasers only of $19.95. These price are exclusive of shipping charges. Please note that when you buy you are purchasing an auto-ship program, which means you automatically get new supply at specific intervals (about every three weeks).
Guarantee
There is a money-back guarantee available on your purchase of Relief Factor. You must request a refund within 90 days of purchase and you must not have opened the product to be eligible for a refund. You are required to cover return shipping cost if you have opened the white mailing package.
Conclusion of Our Relief Factor Review
This looks like a decent product for fighting inflammation, based on the ingredients. However, the use of Relief Factor can lead to unpleasant side effects, the price is on the high side and its money-back guarantee is not a selling point. There is no financially risk-free way to try this product. We cannot recommend Promedev Relief Factor wholeheartedly.
Top investigative research brought to you by the experts at Customer Review.